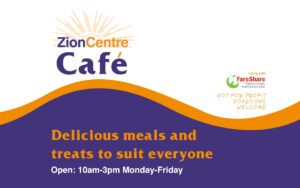 Delicious hot meals and treats at great prices.
Check out our daily menu of fresh meals, snacks and cakes that offer a rich mix of flavours to match our Hulme community.
Main meals from £3.50
Toasties from £2
Cakes from £1.50
Hot drinks from £1
We can keep our prices low because we work with FairShare. Good quality food that might otherwise go to waste is used to create a tasty wholesome menu for you to choose from.
As a not-for-profit, all donations help the Zion Centre create opportunities for people in Hulme to change their lives.
You can stay and eat in or just grab and go.
Access:
Eat in or take away
Age:
Open to all
Opening times:
10am to 3pm, Monday to Friday
Cost:
Great low prices - see our daily menu